Overcoming Mental Health Challenge and Helping Others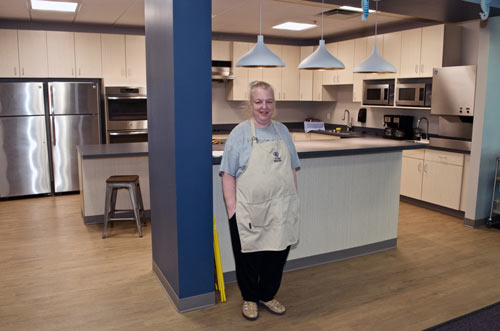 Elizabeth Wilson enjoys the new kitchen at Tri-County Mental Health Services where she teaches others the art of healthy eating, one of several life-skill and coping courses she leads. Some of her most dramatic efforts involved educating law enforcement officers at area Crisis Intervention Training.
Elizabeth Wilson has firsthand knowledge of what it means to face and overcome challenge.
The mother of two sons and a nurse for 12 years, Wilson was forced to retire in 2003 due to increasingly severe symptoms from schizophrenia. Almost as difficult, the loss of a job made her feel without purpose.
"I lost all hope when I quit nursing," she recalls.
Today, her story has changed. In 2013, Wilson began working part-time in Tri-County's day area, helping other clients learn skills she had mastered. Several benefits were evident. "It's a job that makes me feel safe," she explains. "And I'm working; I'm contributing."
Contributing may be an understatement. Besides her work at Tri-County she is also involved in extensive volunteer services.
At Tri-County, she teaches others the skills that she has developed to cope with her illness. These include tools for dealing with anxiety and even cooking classes based on the increasingly important link between physical and mental health. Wilson benefits from the classes as well.
"I feel like I have a purpose again," she explained. "I feel like I have a mission."
That mission also includes work with the National Alliance on Mental Illness (NAMI) and area law enforcement as part of Crisis Intervention Training. She's become a valuable resource for those who want to learn better ways to communicate with those challenged by mental illness.
"Most police officers don't have an opportunity to see us except when we're sick," she explained. "It helps them see that we're people and understand more what it's like from our perspective." Wilson is so effective, she has brought many tough, veteran officers to tears with her insights. Many remark that they can never look at their work the same after one of her talks.
Wilson also travels to the Missouri capital in Jefferson City, where she meets with representatives and senators like the Northland's Ryan Silvey. This summer, she'll represent Missouri's NAMI group at a conference in Denver. These efforts have brought her recognition, including Tri-County's latest Employee of the Quarter award and NAMI Consumer of the Year.
She also continues to work on her own health. After years of trial and error, she has found medications that have minimal side effects. Wilson also focuses on areas like exercise and has become an avid swimmer. She credits Tri-County with steering her in the right direction.
"There's a full range of services here," she said at work one day. "They treat the whole person—every aspect of a consumer is respected and addressed. That's important."