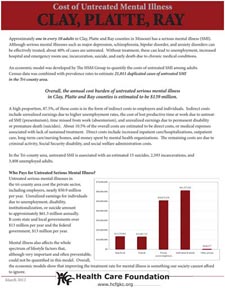 Download copies of the Health Care Foundation study summary in PDF format:
• Combination of All Three Counties
For more information, visit the HeatlhCare Foundation of Kansas City website.
The need for efforts by the Mental Health Board of Trustees and its affiliate organizations was underscored by regional cost estimates of untreated mental illness compiled by the Health Care Foundation of Kansas City.
The Foundation commissioned a study that found the estimated cost for untreated mental illness in Clay, Platte and Ray counties is $139 million annually. The figure includes avoidable costs such as emergency room use, a common treatment of "last resort" for those with serious mental illnesses who don't receive treatment.
One of the report's surprises is that approximately one in 10 adults in Clay, Platte and Ray counties have serious mental illnesses. Approximately 40 percent of those are not treated.
Professionals stress that prevention and early treatment by community-based mental health programs is a far better option.
The cost estimates included areas such as unemployment, disability, institutionalization or suicide. Only about 10 percent of the overall costs were estimated to be inpatient care, long-term care or money spent by mental health organizations. In Clay, Platte and Ray counties, untreated serious mental illness was associated with an estimated 15 suicides, 2,593 incarcerations and 3,408 unemployed adults each year.