Intervention Program: 
William Jewell College Department of Psychology
500 College Hill
Liberty, MO 64068
816-781-7700
www.jewell.edu
The mental health intervention program is a prevention-focused project, a cooperation between the William Jewell College Department of Psychological Sciences and the Public Administrators' Offices of Clay, Platte and Ray counties. 
The program has a twofold focus. First, citizens coping with chronic mental illness can benefit from relationships with the larger community. The program focuses on one-to-one relationships, emphasizing appreciation of the story of the other.  Second, students, many of whom will soon impact the mental health delivery systems in their communities, benefit from firsthand experience with those served by an existing system.
I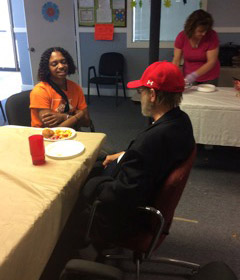 t's one thing to study about specific psychological disorders in the classroom, but a far richer experience is to be able to appreciate the challenges and victories in the life of an individual who copes daily with mental illness. The support of the Clay, Platte, Ray Mental Health Board of Trustees helps make possible the training of students, monitoring of visits and provision of materials for interventions. 
Through weekly visits and group gatherings, students encourage client participants to develop areas of interest and sharpen interpersonal skills, and to see themselves as valued members of the community, individuals not defined by their particular mental health challenges.
Guardians and professional staff report that the client participants appreciate the relationships they form with students and especially look forward to the group gatherings held on campus or in community settings several times each year. Through these relationships, both clients and students learn to see their own journeys as part of a larger story, one the entire community shares.  For further information, please contact the campus coordinator, Dr. Patricia Schoenrade, Professor of Psychology, 816 415-7583 or schoenradp@william.jewelll.edu.