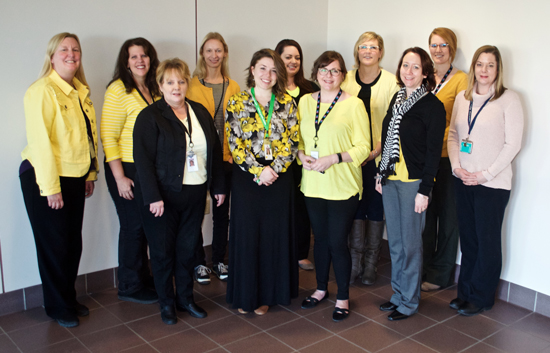 Tri-County's Zero Suicide Team is taking a comprehensive look at virtually everything the organization does. Team members include (from left) Christie Holm, Cathy Blanch, Shelley Goode, Ashley Hennegin, Kelsey Prather, Stephanie Phillips, Lori Wheelhouse, Olivia Booher, Jamie Wehmeyer, Talina Nelson and Heather Heaster.
Zero Suicide Program Leaves
No Option Unexamined
Even among mental health professionals, suicide is often on a list of "things we don't talk about."
Tri-County Mental Health Services is working to change that.
With suicide among the top 10 causes of death for Americans each year and with Missouri consistently above national averages, Tri-County has adopted a zero-suicide policy agency wide. Based on a national movement involving health- and mental-health care, the initiative is a wholesale rethinking of nearly every process in the organization.
"It's a change in the culture of the agency," explained Jamie Wehmeyer, Tri-County director of Assessment and Youth Services. "We're taking a hard look at everything we do."
That comprehensive perspective comes from zero suicide advocates nationally who have found that many of these tragedies may be preventable. The answer is training virtually everyone in the organization so they recognize warning signs.
"This even includes the person at the front desk," explained Crisis Manager Olivia Booher. "If someone appears to be at risk, then we engage immediately. You don't want to wait until an appointment next week. That may be too late."
As with stroke or other health crises, knowing how to recognize the danger signs of suicide is important. So is not being afraid to ask. "Often, even professionals don't feel comfortable asking someone if he or she feels suicidal," Wehmeyer added. "Part of the training is how to ask directly and to ask every single visit. A lot of people don't feel comfortable doing that, and we have to change that."
And yes, that includes everyone at Tri-County, from clinicians to administration. "If an at-risk client misses an appointment, we don't want to just reschedule sometime later," Booher explained. "You don't wait; you contact the individual to make sure they are ok."
If the person is identified as at risk, he or she receives intense services that continue until he or she is through the crisis – completely through. This involves what will eventually be labeled enhanced care that will involve a specially trained team. That development, and raising awareness for everyone on the Tri-County staff, began last year and is still under way. Tri-County is also communicating with its over 100 providers in Clay, Platte and Ray counties. They're also reaching out to community professionals like hospital staff and primary caregivers.
"Most people, prior to ending their life, did seek help," Booher said. "They may have gone to their doctor for joint pain, but the primary care provider didn't ask the right question. That can happen anywhere. Someone comes in for a regular checkup and nobody asks. And you have to know what to look for. We're not expecting people to say, 'Hey, I'm suicidal.' But with evidence-based risk-assessment tools, you will help."
The new program also relates to Tri-County's special suicide prevention effort for people ages 10-24 and an initiative dealing with trauma. "The key is consistency," Wehmeyer said. "We want everyone on the same page. We want everyone to use the same screening tools so we effectively screen for suicide at every visit. There's a lot of work to be done, but this is a good start."