Strong Families Sept. 5 for Platte families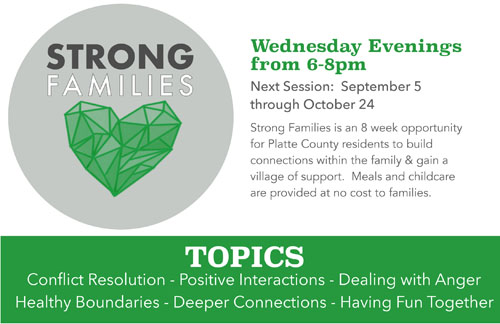 The Strong Families Program beginning 6-8 p.m. Sept. 5 focuses on building healthier connections in the family unit as well as a network of support. 
The evening includes a free meal then a support group of parents while children can play games and practice life skills. Parents and children then participate in an activity together to build their relationships.
The event begins Sept. 5 and continues through Oct. 24 for eight weeks. Meals and childcare are provided at no cost to families.
Strong Families will be held at the First Baptist Church of Platte City, 214 Ferrel St., Platte City, MO 64079.
For more information call 816.858.2018, visit www.fbcplattecity.com or email Amanda@fbcplattecity.com.
You may also download the Strong Families flyer and registration form.