Mindfulness Meditation Offered Free for Veterans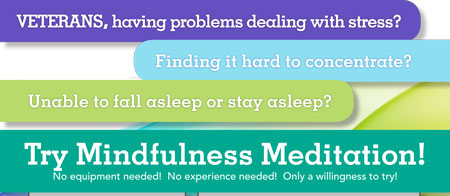 Free and easy-to-access classes are under way for veterans interested in help for a range of issues from sleeplessness to high blood pressure.
Mindfulness Meditation is an evidenced–based, Veterans Administration supported technique that helps you face the challenges and stressors of everyday life. Research has shown a connection between your mind and your body that can be used to improve health.
When your mind is relaxed and focused on healing, your body can relax and focus on healing too. Meditation can be safely used in conjunction with other medical treatments such as prescribed medication or exercise.
Mindfulness Meditation teaches acceptance and awareness of what's going on around you as well as what's going on inside of you. It has been effective in treating health conditions such as insomnia, anxiety, high blood pressure, chronic pain and PTSD.
Mindfulness Meditation can be practiced sitting down, lying down, stretching, eating, even while walking the dog!
Two Mindful Meditation classes will be offered monthly to Veterans. One topic will be presented the first two Fridays of each month. You are free to take any or all classes and are encouraged to take as many as you can!
The schedule through October includes:
August 3 and 10: Mindful Breathing.
September 7 and 14: Mindful Body Scan.
October 5 and 12: Mindful Movement.
All classes are 10 am – 11 am, Central Standard Time.
Classes are offered via telephone using a toll free number: 1-800-767-1750 with Access Code 54220#.
The class facilitator is Doreen Korn RN, MA, AHN-BC, HWNC-BC, Integrative Health Coordinator and and coordinator for the War Related Illness and Injury Study Center.
No registration is required. For more information call Debbie Skeete-Bernard, RN, MSN, at 1-973-676-1000, Ext. 2714, or download this flyer PDF.