Tri-County Receives Top Accreditation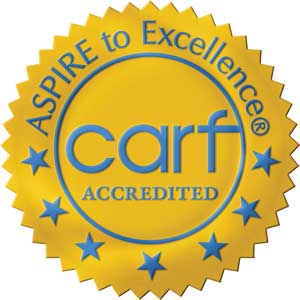 Tri-County Mental Health Services has earned a three-year accreditation and top marks from an internationally recognized independent accrediting organization of standards for mental health organizations, CARF.
CARF (The Commission on Accreditation of Rehabilitation Facilities) provides tools for the public to gauge a provider's commitment to quality and focus on the satisfaction of the persons served. The accreditation report also is used by Tri-County to ensure it is continuously improving its programming and quality in all areas.
The accreditation process applies the rigorous CARF internationally recognized standards during an on-site survey.
According to the CARF findings:
• Tri-County's drive for excellence is valued in the community and by the consumers served and it has been demonstrated recently through its being selected as a Certified Community Behavioral Health Clinic.
• Tri-County's leadership services utilize innovative and high-quality methods and modalities to meet ongoing needs of its consumers.
• Tri-County's personnel are dedicated and compassionate in serving the consumers through high-quality programming.
• Tri-County facilities are attractive and encourage recovery.
• Tri-County's behavioral health and employment services are integrated with primary care, which encourage holistic care for the consumers.
• Tri-County personnel are enthusiastic about their collaborative efforts to bring recovery, resilience, wellness and hope to the consumers.