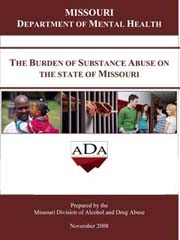 Substance Abuses Costs Everyone
Alcohol and drug abuse cost money, big money.
A recent estimate places the cost on state government at $1.3 billion annually for Missouri. But that pales beside the estimated societal costs: $7 billion annually.
But doing nothing is not an answer. The average cost to treat a substance-addicted individual is $1,346 vs. $17,300 to society not to treat.
This and more information is available in "The Burden Of Substance Abuse On The State Of Missouri." You may download the report in PDF format.